DERE EVIL .EXE STEAM KEY REGION FREE GLOBAL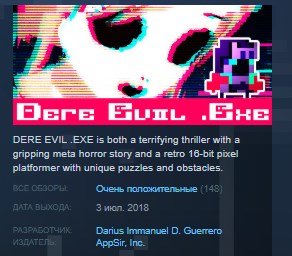 https://store.steampowered.com/app/871950/DERE_EVIL_EXE/
💎💎💎💎💎💎💎💎
STEAM KEY REGION FREE GLOBAL
DERE EVIL .EXE is both a terrifying thriller with a gripping story and an unorthodox retro platformer with unique puzzles and difficult obstacles. This game is not for the faint of heart. If you choose to get DERE EVIL EXE, you can also get DERE .EXE and PROTO DERE .NES (coming soon), two full games, as free DLC.
Note: Please detach controllers when playing this game. This causes the left and right arrows to stick. This game DOES NOT have controller support. Unplug any and all controllers while playing this game. Use the space bar and left and right arrow keys to move.
In DERE EVIL .EXE, you step into the tiny shoes of a silent hero named ´Knightly´. Knightly must jump, run, and manipulate environments in order to survive the heart-racing journey through a stunning pixel art world.
Within surreal structures and blocky hills lurk dangerous creatures known as ´corruptions´. They take the form of their creator´s greatest fears. Their creepy creator, sporting a cunning visage of cheerfulness, hides in plain sight as she watches her prey fall deeper into her traps.
★ Fan art by Hannahdouken
★ A Game Lost In Time
★ Modern 2d side-scrolling horror game with levels inspired by the simplicity and aesthetics of 16-bit arcade classics of the 80s and 90s.
★ Melodic Madness
★ The game plays either catchy retro chiptune music or ominous PSX era orchestral music, depending on the situation.
★ Immersive Tale Of Horror
★ A completely new meta story that bends the creepypasta genre in ways unseen in the video game world.
★ A Standalone Sequel
★ You don´t need to have played DERE .EXE (Free DLC), Sorority Rites, and The Last Yandere to enjoy this side-scroller game.
---
ИНСТРУКЦИЯ ПО АКТИВАЦИИ:
1. Необходимо скачать и установить Steam http://steampowered.com/download/SteamInstall.msi
2. Зайти под своей учетной записью или зарегистрировать новую.
3. Перейти в раздел "добавить игру" и выбрать "Активировать через Steam...", ввести ключ полученный после оплаты.
Цена:
11
руб.
Купить или узнать подробнее
← Назад на главную страницу